News and Views
Reaching Communities – Pathways to Partnership Project
The WATCH Project CIC and ARK at Egwood CIC are excited to announce their recent grant award from The National Lottery Community Fund for their joint three-year Reaching Communities project: Pathways to Partnerships.
Julie Matthews (WATCH Project) and Nigel Bell (ARK at Egwood) will be working together using their extensive knowledge and experience to improve both access and engagement with mental health support in Somerset.
Working in partnership together with other organisations in Somerset, the WATCH Project CIC & ARK at Egwood aim to provide pathways for people that will provide meaningful, transferable life experiences. The project will offer practical skills training with face-to-face support, and engagement with other relevant support organisations, providing holistic approaches and positive outcomes. The Pathways to Partnership project will provide personal, targeted, cost-effective support, in a non-threatening sympathetic and engaging environment, with an emphasis on the individual's personal choice and pace. These approaches will help develop a sense of social connection and lessen feelings of social isolation within local communities, by identifying and overcoming barriers that may stop people or groups seeking support.
Julie and Nigel will, through this exciting project, look to empower individuals to manage their anxiety, encourage social engagement and connection, improve confidence by identifying positive peer pathways and, with the appropriate support, enable them to pursue their own chosen journey. Through peer coaching, project members will feel empowered to realise their own potential and vision, and through personal learning and development recognise and believe they have choice and control over their lives.

Our Plans…
1. Plans to provide services in support of looking after those with Dementia and memory loss as well as their carers.
2. Our shipping containers are on site, but not yet in position – Fingers crossed for some dry weather so that the crane can get across the field!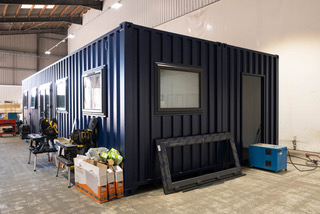 Subscribe to our newsletter
Don't miss new updates on your email